How much evaporative cooling costs, depends on the type of evaporative system that is used, as well as the amount of cooling and ventilation required. Some systems may require more electricity and water than others, and larger spaces or buildings may need several installations to provide optimal cooling and ventilation. Nonetheless, below, you will find that two-stage evaporative cooling is an affordable and sustainable solution to create a comfortable and healthy working climate.

Is evaporative cooling energy-efficient?
The short answer is: yes, evaporative cooling is very energy-efficient. Evaporative cooling uses water, the most powerful cooling agent on the planet, to cool the air. For Oxycom's two-stage evaporative cooling system, this means that 95% of the cooling capacity of the IntrCooll is provided through the natural process of water evaporation. The energy needed to evaporate the water is taken out of the air in the form of heat. The motor-driven fan that regulates the evaporative process requires 1 kWh of electricity and provides up to 40 kW of cooling power. As a result, the IntrCooll system uses up to 90% less energy than mechanical cooling installations and delivers ventilation for free.
Furthermore, on hot days the cooling efficiency of the IntrCooll system increases, as warmer temperatures allow for more moisture in the air. So the system can evaporate more water. Without increasing its energy consumption, more water can be evaporated, and thus more cooling power is provided.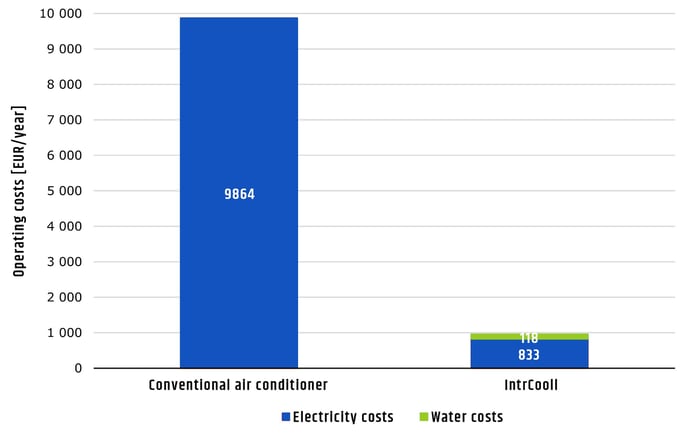 The graphic shows an example of the dramatic differences between the electrical and water costs of an IntrCooll and a conventional air conditioner.

Evaporative cooling running costs
Evaporative cooling has two components that make up its running costs: electricity and water consumption. How much electricity and water is needed to cool and ventilate depends on the type of evaporative cooling system that is used.
As described above, the fan that regulates the evaporative process in the IntrCooll system requires 1 kWh of electricity to provide up to 40 kW of cooling power and free ventilation. In comparison, 1 kWh of electricity in traditional air conditioning provides around 3 kW of cooling power without ventilation.
In terms of water consumption, the IntrCooll system needs only 1 m3 of water per hour to provide a 695 kW cooling capacity. In comparison to direct evaporative cooling systems, the IntrCooll uses up to 30% less water.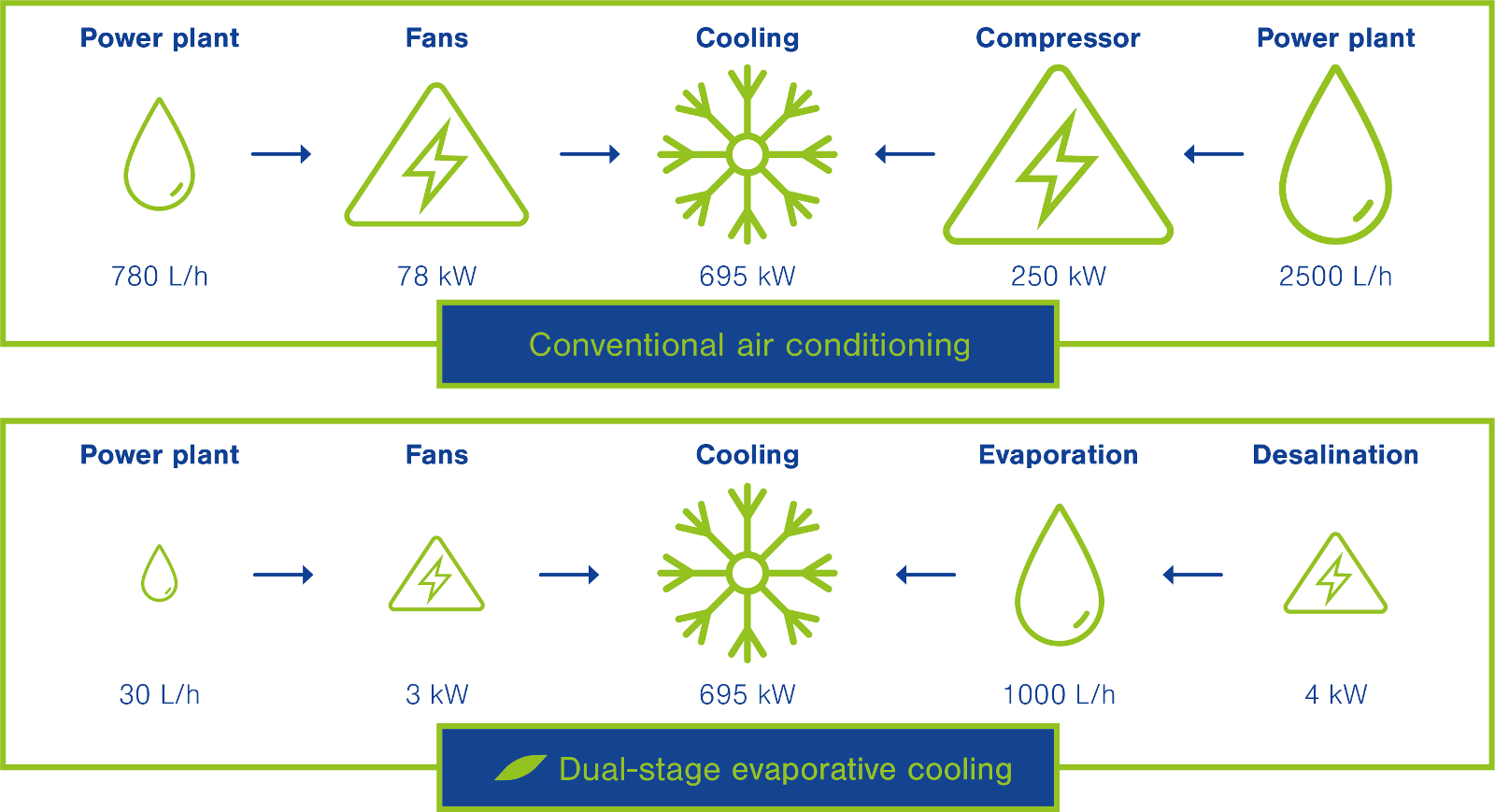 Read more in our blog "Use Water to Save Water: The Efficiency of Indirect/Direct Evaporative Cooling".