Last month, twenty scientists called on Dutch Prime Minister Rutte to include ventilation as a serious measure against the spread of corona. The reasoning: "You can keep a distance of 1.5 meters, but without ventilation, the measures are of little use," says Philomena Bluyssen, professor of indoor environment at TU Delft. This has everything to do with airborne pathogens having free rein in rooms that are not (sufficiently) ventilated. Therefore, it is vital that employers offer their employees a clean, healthy, and well-ventilated workspace. Unfortunately, this is not usually (yet) the case. This blog delves deeper into the consequences of poorly ventilated (work) spaces and offers a simple solution to combat this problem.


Reason #1: Ventilation combats virus transmission
The research on the relationship between aerosols and contamination is now conclusive. The amount of aerosols in the air is not directly measurable, but research shows a clear correlation between the concentration of CO2 from breathing and aerosols. The higher the concentration of CO2 in a room, the higher the concentration of aerosols. Thus one can conclude that when measures are taken to reduce the CO2 content in a room, the risk of aerosol contamination also reduces. Therefore, optimal ventilation of rooms also plays a significant role in reducing the risk of contamination. By constantly refreshing the air, the CO2 content drops significantly, and with it, the concentration of aerosols.


Reason #2: Ventilation positively affects concentration, productivity, and overall well-being
People often underestimate how crucial adequate ventilation is for our comfort and well-being. High levels of CO2 are the root cause of many physical complaints in the workplace. For example, fatigue and headaches. A lack of (good) ventilation is the biggest and often the only culprit. Besides the fact that sufficient ventilation with fresh air reduces the risk of contamination through aerosols, it has many more advantages. Optimal ventilation increases the level of concentration and the general well-being on the work floor. In addition, fewer mistakes are made, and productivity increases.
Furthermore, a sufficient supply of fresh air can reduce sick leave reports by up to 35%. Plus, particulate matter, nitrogen oxide (NOx), ozone (smog), and soot are invisible assassins that cause long-term damage. Maximum ventilation purifies the air of these substances.


Reason #3: Ventilate, and you'll better keep scarce professionals working for you
In order to reduce absenteeism, the risk of virus transmission, and increase productivity and the general well-being of employees, it is essential to provide the working environment with sufficient ventilation. Yet we see that ventilation is often neglected. The growing awareness that the available professionals are of great value to the company and tightness on the labor market ensures that management increasingly decides to pay attention to the comfort and safety of employees.


Sustainable ventilation possible with two-stage adiabatic system
New technologies, such as the two-stage adiabatic IntrCooll, make it possible to provide large commercial buildings with optimal ventilation in a sustainable way. Oxycom's patented indirect/direct adiabatic cooling system sustainably ventilates the entire contents of the industrial building several times an hour in all seasons. So employees are always assured of optimal air quality at low energy and investment costs.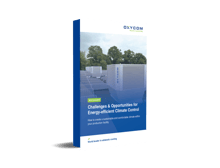 Download our whitepaper "Challenges and Opportunities for Energy-Efficient Climate Control" and discover how you can create a well ventilated and sustainable indoor climate within your production facility.
If you would like to know more about this indirect/direct adiabatic solution, please contact us at +31 572 349 400, or fill in the form directly with your question: