Magna Energy Storage Systems GmbH develops and manufactures complete tank systems for passenger cars. During the production of plastic tank systems, a hall temperature of up to 35°C is reached, which led to a high level of stress for employees. The presented innovative cooling system improved workplace quality in a very environmentally friendly, sustainable, and economical way.
Sinabelkirchen, Austria. State-of-the-art tank vessels and tank systems are manufactured at Magna Energy Storage Systems. The product range varies from steel and stainless-steel tanks for hybrid vehicles to CNG fuel tanks made of fibre composites and thermoformed plastic tanks. During production, thermoplastic sheets are heated to over 200°C and are formed into shape by vacuum deep drawing. Numerous machines emit a high level of waste heat and warm the hall up to 35°C. The aim was to cool down the hall to make the workplace of the production employees as comfortable as possible. At the same time, the company was faced with the problem that with conventional air conditioning, cooling down the entire hall is uneconomical and leads to particularly high energy costs and CO2 emissions.

Zone cooling instead of hall cooling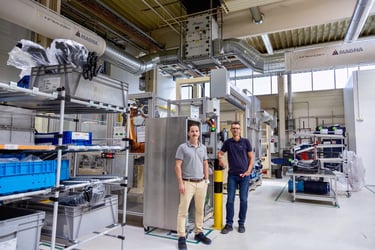 With the goal in mind maintaining a comfortable indoor climate, Magna became aware of our new sustainable cooling system the IntrCooll. In this project we relied on targeted zone cooling of permanent workplaces instead of cooling the entire hall. By the use of numerous cooling zones with a total length of 72m and a width of up to 5m, employee workplaces are supplied with pleasantly cool fresh air.

Environmentally friendly cooling by using adiabatic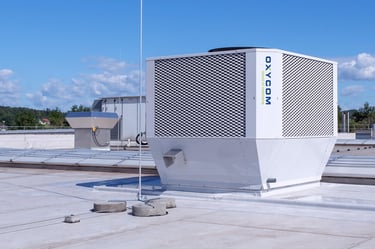 Instead of a conventional compression refrigeration system with 420kW cooling capacity, our innovative two-stage adiabatic cooling technology was used, which is especially eco-friendly. Four modules of 14,000m³/h each provide a pleasant climate through active fresh-air-cooling using a particularly sustainable and economical technology. Although the system is based on the extremely efficient natural process of water evaporation, the IntrCooll cooling unit is not a conventional direct evaporation cooler.
Cooling is only achieved with the power of water using a patented two-stage indirect and direct adiabatic cooling technology. Even with a high outdoor temperature of 34 °C, it was shown at the end of July 2020 that a pleasantly cool air supply of 22 °C was achieved. No other comparable sustainable system on the market achieves these performance results. Since only conventional tap water is required as a refrigerant, climate-damaging additives are reduced by 100%.
The centrepiece of the multi-stage adiabatic cooling system is the patented cooling comb. It is one of the essential components that contribute to the results. Manufactured from industrial-quality aluminium fins, the cooling comb is particularly characterised for its permanent antibacterial coating with silver ions, which, together with the VDI 6022 hygiene certificate, ensures ideal results in the sectors of hygiene and safety.

Differences to single-stage direct adiabatic cooling systems:
Compared to single-stage direct evaporative cooling, a considerable increase in performance is achieved, since 5-7 °C lower supply temperatures are achieved. Comfort is also improved, because up to 60% less humidity is brought into the room, resulting in a comfortable indoor climate that remains within the ASHRAE standard.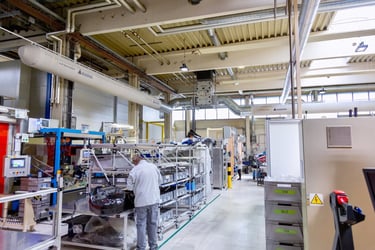 The cooled fresh air is introduced into the cooling zones through numerous textile air ducts that have been individually adapted to the hall and workplace requirements by the use of laser perforations. This provides an even and pleasant air distribution. For optimum comfort, the supply air temperature is limited downwards by adding circulating air, which allows all-year-round controlled cooling even during the winter.


Statements and experience values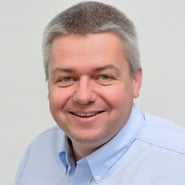 Michael Krammer, General Manager Magna Energy Storage Systems
"The investment in an energy-saving hall cooling system supports the climate and energy strategy and, above all, the reduced temperatures in the working area create a healthy and pleasant workplace for our employees," says General Manager Michael Krammer.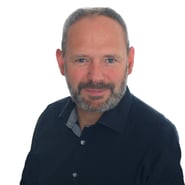 Gerhard Walcher, Project Manager Magna Energy Storage Systems
"We chose Oxycom's partner Infranorm because they offered the only two-stage adiabatic system and were the best solution in terms of efficiency, cooling capacity and value for money. Project handling and project progress were very positive. Infranorm employees are professionals in plant constructions. They are at home in the industry and are very well positioned in it." reports project manager Gerhard Walcher.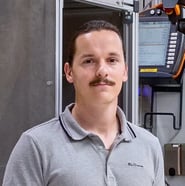 Manuel Lackner, HSE employee Magna Energy Storage Systems
"Indoor air quality and indoor climate have significantly improved. The cooling effect isnoticeably felt by the employees, which has also had a very positive effect on employee motivation," reports HSE employee Manuel Lackner. " Before the installation of the machine one employee reported a dry and scratching throat due to dehydrated air next to the thermoforming unit. Since the fresh air cooling system has been in use, this condition has improved considerably, or is no longer an issue at all."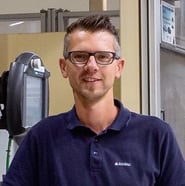 Stefan Filzmoser, Safety specialist Magna Energy Storage Systems
"Especially during the hot summer months, when cooling was most needed, we received very positive feedback from our colleagues. The system works very well," says Stefan Filzmoser, safety specialist at Magna, and adds: "The air distribution works directly under the insertion and as well up to 5m next to it. In my view, this is a remarkable result for the size of the system, the length of the ducts and the size of the hall. At the same time, comfortable cool airflow is achieved without any disturbing draughts."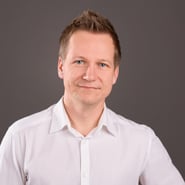 Markus Binder, Energy Manager Europe at Magna International
"Protecting our employees from hot temparature in the halls in a highly sustainable and energy-saving way makes the two-stage adiabatic cooling technology very appealing for Magna." adds Markus Binder, Energy Manager Europe of Magna International and confirms the good results as well.


Qualitative and quantitative improvements
The working areas of the employees are supplied with environmentally friendly cooled fresh air all year round. 73% energy costs, 73% CO2 and 100% of the climate-damaging cooling mediums are saved by the two-stage adiabatic cooling units in year-round use. The air quality was also significantly improved by the 56,000m³/h fresh air cooling system.
According to the Dutch Green Building Council DGBC, the used IntrCooll cooling units are already PARIS PROOF. They already fulfil the criteria of the UN Climate Change Convention of Paris for the year 2050.
The implementation of the system saves 124 tons of CO2 annually compared to a conventional solution.



Quick Facts
Benefits compared to conventional air conditioning:


saves 73% of energy costs

saves 73% of CO2 - emissions

saves 124t CO2 – emissions per year

saves 71% of operating expenses

100% elimination of climate-damaging refrigerants

use of the natural refrigerant water

safe hygiene because of VDI 6022 certificate

adjustable supply air temperature and all-year-round use

achieves temperatures similar to a conventional air conditioning system

creation of a comfortable indoor air climate

fresh air cooling instead of recirculated air operation