There are several factors that influence the effectiveness or efficiency of two-stage evaporative cooling. These are:


The outdoor dry bulb temperature
The outdoor wet-bulb temperature
The outdoor air humidity
Air pressure
Air volume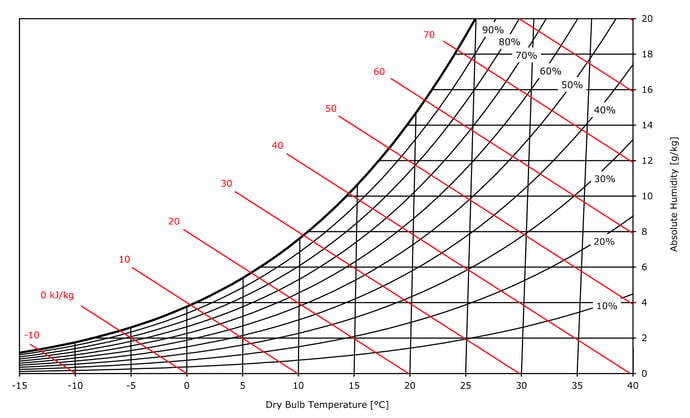 The psychrometric diagram depicts all parameters which are involved in an evaporative process.


Effectiveness of evaporative cooling in different climates
As evaporative cooling is a physical process based on the evaporation of water, different climates affect the effectiveness of evaporative cooling differently. The hotter and dryer a climate is, the higher the performance of an evaporative cooling system. A desert climate is, therefore, the most optimal climate for evaporative cooling. High temperatures and low humidity, provide a lot of cooling power. Cooling from 45 °C to 15 °C is no exception. In coastal areas where temperatures are still high but the humidity is often higher, the delivered temperature will end up a few degrees higher. In most continental and maritime climates, dry and more humid periods alternate, here only two-stage evaporative cooling can work effectively through the year. Humid days, in continental and maritime climates, occur mostly during spring and autumn when temperatures are still relatively low, and the humidity is only high for a couple of hours during the day. Due to the two-stage technology cooling of the IntrCooll, the cooling performance is retained. For the rest of the year, two-stage evaporative cooling functions as an effective and sustainable indoor climate solution. For countries in a tropical climate evaporative cooling may not be the most effective cooling solution though a hybrid version allows still for substantial energy savings.


The graphs show the effectiveness of evaporative cooling in continental&maritime, tropical, and desert climates.