Following in the footsteps of many national supermarkets, we carried out the installations of PreCooll systems at two JUMBO supermarkets in Raalte - The Netherlands.

Due to the hot summers in recent years, cooling and refrigeration systems are often not able to cope with the heat. This results in reduced cooling capacity leading to temperature increase and therefore a shorter shelf life of the products.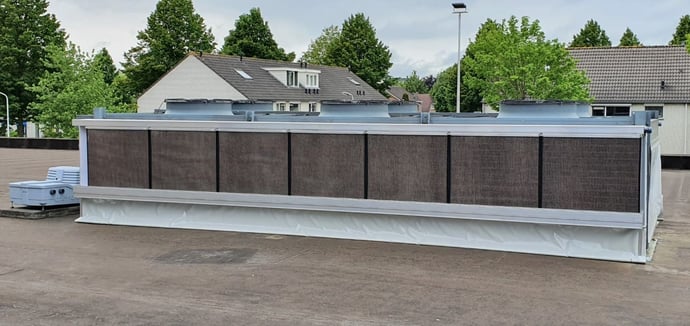 Mr. Boer, JUMBO Raalte: "As everyone knows there are various pre-cooling options available, but we chose the PreCooll-system for our two supermarkets. The entire condenser is now encapsulated by adiabatic panels that will be automatically soaked with water during temperatures above 18-20°C, to pre-cool the air. We no longer have to spray water to keep our condenser cool and running on hot summer days. Next to improving the overall reliability, the system also increases the efficiency and reduces our energy bill. The PreCooll system is connected to the cooling installer's monitor system and has an automated water management system which ensures that the system performs optimally. After each pre-cooling session, the water is automatically drained to avoid legionella build up in standing water. By the end of the summer period, the water is drained away and freezing of the installation is prevented."