Emirates National Oil Company Group (ENOC) is a leading integrated global oil and gas player operating across the energy sector value chain with operations in Dubai en Northern Emirates in UAE. ENOC is a one-stop-shop for all vehicle testing and registration needs in UAE.


Use case/scope
ENOC reached out to Oxycom because they wanted to provide their car inspectors with an outdoor cooling solution able to ensure fresh and cool air throughout spot cooling. Car inspectors were exposed to "dirty" air and high temperatures resulting in uncomfortable working conditions with a negative impact on their work performances.

The challenge
Car inspectors are exposed to the exhaust gases of testing vehicles. These gases contribute to the air pollution of the workstations with strong odors and temperature increase. The high temperatures of the test locations were another factor playing an important role which was considerably affecting the concentration and the performances of the car inspectors.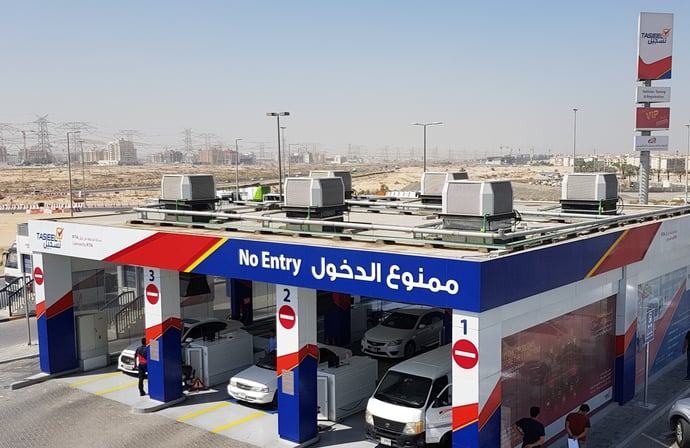 The solution
Our customer demanded high performance and a low energy consumption outdoor cooling solution. Oxycom provided them with 50 Oxycom's IntrCooll units with two-stage evaporative cooling. This turned out to be a great relief for car inspectors showing a dramatic increase in their productivity.

The results
50 IntrCooll units have been installed and they effectively provide fresh air, relief, and comfort the whole year-round. "We are very happy with the excellent cooling performance against low energy consumption which IntrCooll enabled us to achieve. In this way, we have been able to create comfortable workspaces for our car inspectors."
Mr Sandeep Bapu, Project Engineer at ENOC, Dubai: We are very positive about the improved performances of our car inspectors thanks to the installation of Oxycom's lntrCooll units therefore we are going to roll them out across multiple sites.