The data center in Amsterdam is one of the most important connectivity hubs in the world and supports organizations undergoing global digital transformation. The customer approached us to increase the efficiency of the cooling system and reduce peak power. When building new data centers, the municipality limits the maximum power consumption. Cooling systems are large consumers, so reducing peak power indirectly means that server capacity can be increased.

The solution
In cooperation with Trane, Oxycom supplied and assembled our adiabatic pre-cooling system, the PreCooll. The PreCooll is built around a mechanical cooling machine and ensures that the outside air is pre-cooled, by means of direct evaporative cooling, before it passes through the condenser. This pre-cooling results in an efficiency increase which reduces energy consumption. The peak power on hot days is reduced and the cooling capacity is increased, allowing the customer to increase his server capacity at this location without using more energy.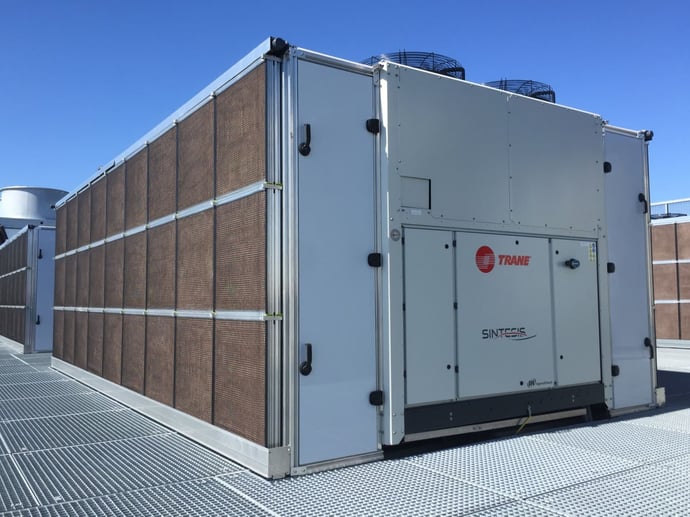 Due to the very high humidification efficiency and low air resistance of the PreCooll system, optimum efficiency can be achieved from the chiller.
PreCooll is a modular system that is custom-made and assembled on site. The system is designed in such a way that mechanics can reach the chiller without having to dismantle panels. This makes the system easy to maintain.



The result
Reliability of the installation and data are very important in applications like this, therefore the adiabatic pre-cooling system was first laboratory tested in extreme conditions. The results exceeded expectations and convinced the customer to use the PreCooll system in other locations as well.


A wonderful project in which all the advantages of PreCooll have been shown to their full advantage.