2020 - the year of COVID-19. It was also a year during which extreme summer temperatures broke heat records worldwide. Here we see a trend that has been going on for years and which won't be changing soon. And while it's never been a problem in the industrial sector to provide production halls with heating in the winter, it remains a common issue to provide the same halls with sufficient ventilation and cooling during the warmer months. Even though it's understood that employees' productivity, health, and happiness deteriorates when working in a too warm, poorly ventilated environment. Therefore it is about time that production facilities ensure adequate cooling and ventilation in their workspaces. But choosing, purchasing, and implementing a proper climate system isn't done overnight. This process takes time and devotion. That's why we recommend you start looking for a solution for the upcoming heat problem now, so that it can be installed in time and your factory can be ready for the sweltering summer heat. This blog provides a few tips to make this process go as smoothly as possible.
In search of a suitable solution for a comfortable indoor climate
Although many factories face the same heat problem in summer, there's no ready-made solution available to solve it. That's because no factory is the same. When looking for a suitable cooling and ventilation system, variables that influence the heat from the outside must be taken into account, as well as variables that affect the internal heat. These include insulation, factory processes that release heat, heat-producing machines, and the number of people working on the floor. Also, the required cooling capacity of an installation depends on the volume of the room(s) to be cooled. Additionally, it's essential that a climate control system provides the required cooling capacity at minimal energy costs. This will help save the planet, and let's not forget money too.
We advise you to seek advice from installers, consultants, and suppliers. When a possible solution comes up, make sure hard figures based on the factory's current situation can substantiate this solution. This will offer a guarantee and help prevent an expensive investment in an indoor climate solution that ultimately turns out to be insufficient. Additionally, it's always a good idea to educate yourself with references about various indoor climate applications for your specific industry.
On our reference page, you can read our customers' stories on their experiences with the IntrCooll and PreCooll. You can filter the references by industry and application.


A smart investment in these uncertain times
For many, 2020 was a year filled with uncertainty. No one knew what was going to happen, socially or economically. It's not surprising then that significantly fewer investments were made than in the previous year. Companies choose to create a financial buffer to shield themselves from any further (economic) disaster.
With good hope, however, the world will be in full swing again by next summer. Consequently, the real need for a healthy and comfortable working environment arises again. Then, an adequate climate system is a big but also a smart investment. Healthy and happy employees equal less absenteeism, more output, and a higher turnover.
When you choose an energy-efficient climate system, such as Oxycom's IntrCooll, you contribute to a better world and Paris-proof your company.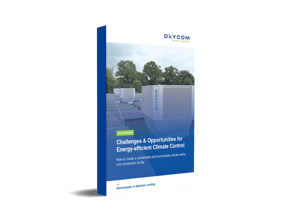 Download our whitepaper "Challenges and Opportunities for Energy-Efficient Climate Control", and discover how you can create a comfortable and sustainable indoor climate within your production facility.
Don't wait till it's too late!
We often see that companies only start looking for an indoor climate solution once the heat problem occurs. By the time all matters have been arranged for the implementation, the summer heat has passed, and many refrain from placing the system. All plans are then shelved, only to be dug up again the following year once indoor temperatures skyrocket again.
Therefore, to ensure a healthy and comfortable work environment, start looking for a suitable indoor climate solution early on, and don't underestimate the entire process that precedes the installation of the system. Oxycom can deliver its cooling and ventilation systems reasonably quickly, sometimes even within a few weeks. But with that, not everything is done and dusted. For example, an architect or structural engineer will need to ensure the installation can be installed in or on top of the factory. Furthermore, a structure should be built to support the climate system, and an installer needs time to install the system itself.
In conclusion, our advice is to start looking for a suitable indoor climate solution now. By the time summer arrives, your employees will be working in a healthy, fresh, and summer-proof environment.
At Oxycom, we are happy to help you find the best indoor climate solution for your production facility. Request a free consultation by filling out the form below, or contact us directly at +31 (0)572 349 400 or info@oxy-com.com.