A healthy and clean indoor climate in production halls: underfloor heating or four-season climate control? Every entrepreneur knows that his employees represent about 90% of operational costs. However, what is often forgotten is that employees work more efficiently when working conditions improve - thus reducing absenteeism and increasing productivity. Maximum ventilation in the work environment is an essential aspect of this. Yet, the need for a healthy and comfortable indoor climate for all seasons is often ignored in new construction projects. This blog further elaborates on this, offers a solution for this frequently occurring problem, and shows how Wildkamp saves 14 tons of CO2 per year with the four-season climate system at its new facility.
"Personnel costs often represent 90% of operational costs."
Climate control in newly built premises - the missing link
A healthy indoor climate provides comfort in terms of temperature, humidity, air quality, light, and visibility. In new construction projects, some of these aspects are often taken into account to a limited extent. Air quality and temperature are regularly neglected. New buildings are required to comply with regulations based on saving energy, and this is usually accompanied by limited ventilation. As a result, comfort in all four seasons and indoor air quality are overlooked. This is regrettable since the increasingly hot summers, especially when combined with a high internal heat load, have a negative impact on employee productivity. Underfloor heating is often prescribed as standard in new construction projects, along with a heat pump and the legally required exhaust fan, usually selected for the minimum air volumes that everyone now realizes are far too low. The disadvantage of such an exhaust fan is that it draws in cold air in the winter and warm air in the summer. This does nothing to improve indoor comfort. What is even more striking is that only underfloor heating is considered - not cooling or maximum ventilation to increase indoor air quality. The legal ventilation requirement is met, but as minimally as possible, to reduce energy loss. Thus, buildings are only equipped for winter, while the spring, fall, and summer seasons are becoming increasingly important due to the global temperature increase.
Consultants should recommend a healthy and comfortable indoor climate for all seasons. But even then, consulting firms have the challenge of finding a ready-made solution for warehouses, production halls, and distribution centers. Again, energy consumption is often the obstacle here.
The need for sufficient ventilation
In production facilities, the indoor air is often two to five times more polluted than the outdoor air. In extreme cases, this can even amount to 100 times. The indoor air becomes polluted due to the (harmful) production processes present: activities that cause dust or the release of formaldehyde, radon, VOC's, and odors from, for example, (chemical) cleaning agents. On the other hand, good indoor air quality ensures healthy employees. Therefore, the indoor climate and air quality should not be a balancing item in the budget of new business premises.
"Investing in a comfortable and healthy working environment is investing in retaining professionals on the shop floor."
Investing in a climate system - the costs and the benefits
Maximum ventilation, in all seasons, replacing polluted indoor air with fresh, cooled, or heated, filtered outdoor air provides a safe and comfortable working environment. The responsibility for providing such a working climate lies with the employer. An investment in a climate system that guarantees a healthy working environment contributes to reducing sick leave and increases productivity on the shop floor.
However, as mentioned above, high energy costs prevent investment in a decent climate system. Often, only traditional techniques are reviewed. In the Netherlands, underfloor heating is almost always used because of the decision to move away from natural gas. The piping network of the underfloor heating allows, albeit to a limited extent, floor cooling. In general, it can be said that underfloor heating reacts slowly and tends to lag when the outside temperature changes. The cooling provides only a limited improvement in comfort and is insufficient to cope with summer temperatures. The basis for a pleasant climate is present, but in many aspects such as ventilation, filtration, cooling, and the slow temperature response, it often remains a challenge.
A comfortable and healthy climate in every season
With the IntrCooll 4Seasons, Oxycom offers an alternative. The IntrCooll 4Seasons is highly economical, provides maximum ventilation, filters, heats, and cools. In addition, the heat pump required for supplementary heating in the winter period is more compact, reducing the connection capacity through this energy-saving concept.
In the hot summer months, the system cools with 90% energy savings compared to conventional air conditioning systems. In the spring and fall, outdoor air is used for cooling, also called free cooling. By using a Heat Reclaim module, fresh air is blown in at the desired temperature.
Oxycom's unique patented two-stage adiabatic cooling system cools 4 to 7 °C deeper than direct adiabatic systems. The lower temperature means that approximately 30% less air volume is required to achieve the desired indoor temperatures, and up to 70% less moisture is blown in. This is extremely important for a comfortable indoor climate and prevents annoying draughts/air displacement.
Below is an indicative comparison of the costs/benefits of investing in regular underfloor heating versus the IntrCooll 4Seasons:
For business premises of 1000mᒾ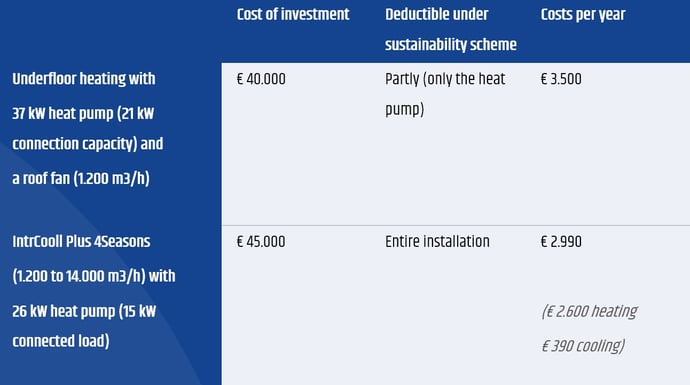 * Example savings at Wildkamp compared to underfloor heating.
* Electricity price € 0,10 kWh.
* In this comparison, we have assumed an IntrCooll Plus 4Seasons because of the higher heat load. The more compact IntrCooll Standard 4Seasons can be used with an average heat load, and the investment level is € 8,000 lower.
* Use of the IntrCooll costs € 2,600 per year for heating and € 390 per year for cooling. This requires a 26 kW heat pump with a 15 kW connection capacity.
*Use of underfloor heating costs €3500 per year (+35%) and if use is made of the (limited capacity) underfloor cooling, it costs €900 per year (+131%). This requires a heat pump of 37 kW (+42%) with a connection capacity of 21 kW (+40%).
* COP of the heat pump is 2.83 at +10 °C and 1.75 at -10 °C outside temperature.
As indicated above, at Oxycom, thermal comfort and a healthy indoor climate go hand in hand with a profitable investment. Thus, the IntrCooll 4Seasons offers the solution for people's happiness, health, and productivity on the shop floor, all year round.
"Wildkamp saves 14 tons of CO2 per year with a four-seasons climate system at its new facility in Raalte."
The IntrCooll 4Seasons implemented
In the course of this year, the IntrCooll 4Seasons will be implemented at three locations of Wildkamp (supplier of technical articles, Wildkamp.nl). These locations each cover an area of 1000 mᒾ. Because the new department, used for the comparison above, faces south and has a 95 mᒾ glass facade, the indoor climate in the summer months and early spring would cause temperatures too high for the customers and employees present. The implementation of the IntrCooll 4Seasons offers the perfect energy-efficient solution.
If you would like to know more about the IntrCooll 4Seasons, or the other climate solutions we can offer, please contact us at +31 572 349 400, or fill out the form with your question: