As of February 2020, all UNFCCC members have signed the Paris Agreement; its long-term temperature goal aimed at limiting global warming to less than two degrees Celsius above pre-industrial levels and pursue efforts to limit the rise to 1.5 degrees Celsius. In compliance with this agreement, production facilities need to reduce their CO2 emissions, and with that their energy consumption.
In this blog, we will discuss the Paris Agreement further, elaborate on what it means to make your production facility Paris Proof and explain how this can be achieved.


Reduce global warming risks - reduce CO2 emissions
The goals set in the Paris Agreement are aimed at substantially reducing the risks and impacts of climate change. The agreement aims to decrease global warming. Part of the Paris Agreement is the so-called 20/20/20 targets:
20% reduction of CO2 emissions
20% increase in the market share in renewable energy
20% increase in energy efficiency.
The agreement has been described as an incentive for and driver of fossil fuel divestment.


Paris Proof: against wasteful energy usage
Based on the Paris Agreement, the Dutch Green Building Council created a practical concept - Paris Proof. This framework sets out recommendations for existing commercial buildings to improve their energy efficiency and to cut down on wasteful electricity usage.
Energy wastage occurs when energy-using installations, devices or processes do not function efficiently. Various studies have shown that energy consumption in commercial buildings is much higher than one would expect based on the available technology. A study performed by TNO and Halmos Advisors in the Netherlands showed that energy savings of 20% could be achieved by improving the performance of the installation. The study also showed that 70% of climate installation do not function properly. Therefore there is a substantial energy saving potential related to the operational waste of energy in commercial buildings.


Sustainable climate control within production facilities
As a result of the effects of global warming, production facilities all over the world are looking for new ways to provide adequate cooling and ventilation (IAQ) for their employees. As traditional cooling technologies cost a lot of energy, more modern cooling technologies that use significantly less energy will have to step into the limelight.
One of these newer cooling technologies is known as evaporative cooling, a technique that uses water as its refrigerant. Oxycom's patented two-stage evaporative cooling technology uses the natural principle of water evaporation to cool fresh air that is ventilated into a building. The great advantage of this technology is that it requires almost no energy as 95% of the cooling capacity is provided through the natural process of water evaporation. The fan that regulates the evaporation process requires 1 kWh of electricity and provides up to 40 kWh of cooling power and free ventilation. In comparison, traditional air conditioning needs 1 kWh to produce only 3 kWh of cooling power without ventilation.
In comparison with traditional cooling systems, Oxycom's two-stage evaporative cooling technology uses only 10% of energy to cool a production facility effectively. This means that there is a 90% savings in energy when using the two-stage evaporative technology. Furthermore, Oxycom's cooling technology uses so little energy that it can be paired with solar panels.
IntrCooll already over exceeds the requirement for 2050, specified in the Paris Climate Agreement:

* Cases IntrCooll Std.:
Average internal heat load 0,9 kW x 800 cooling hrs: 600m²= 1,2 kWh/m².
Medium internal heat load 0,9 kW x 800 cooling hrs: 500m²= 1,4 kWh/m².
High internal heat load 0,9 kW x 800 cooling hrs: 400m²= 1,8 kWh/m².
** Case IntrCooll Std. including Heat Reclaim: 4.350 kWh : 600m2 = 7,25 kWh/m².
To add, IntrCooll qualifies for the EIA (Energy Investment Allowance) scheme in the Netherlands.
For more information on Oxycom's sustainable cooling technology, read our blog "Sustainable Cooling: cool your factory with Oxycom's technology" or visit our website.
Challenges & Opportunities for Energy-Efficient Climate Control
We recognize that production facilities face the challenge of creating an indoor climate that is beneficial to their employees. This is especially challenging as traditional climate control systems cost a lot of energy to create such a climate, while production facilities need to reduce their energy consumption.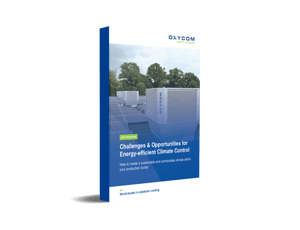 In our whitepaper "Challenges and Opportunities for Energy-Efficient Climate Control", we describe how you can create a comfortable and sustainable indoor climate within your production facility.